When Steven got to the emergency room he thought he was going to die.
His stomach churned while he gasped to catch his breath.
He was sweating through his clothes, his heart was pounding, and his mind was racing a million miles a minute.
It didn't make sense. He was sitting at his computer, working on a new sales letter - the one that would finally see his business explode - and then it happened.
The tight chest. The suffocation. The fear.
He was about to make a breakthrough, but instead he had a breakdown.
This wasn't the first time this happened to Steven, either.
In fact, it happened often. But he had no idea why.
And he knew if something didn't change, one of these anxiety attacks would be his last.
It was frustrating. Sitting in the ER, Steven tried to figure out what was happening.
He was doing all the right things, but he just couldn't get that explosion of growth he so desperately wanted. And no matter how much work he did... nothing seemed to change.
And it got worse. Steven had spent the last 5 years watching his close friends reach the level of success he was desperately chasing. They got rich. He got anxiety attacks.
There were countless "dumb" competitors having more success than him, too. Some of them with brand new businesses.
And even though he worked his butt off the whole time, he felt like he was constantly slipping behind.
Steven felt like he was in a bubble... on the verge of success...
But something was missing.
These days, it's a different story. Steven built multiple 7 figure businesses, travels the world coaching other entrepreneurs, spends his summer holidays in Europe, and has personal relationships with some of the world's most interesting people.
His anxiety attacks are gone. His work days are a breeze. And instead of waking up in the Emergency Room, he wakes up in 5 star hotels.
His secret?
The formula you'll discover in just a moment.
Without a proven formula there's no telling how
long you will chase your goals
There's a reason entrepreneurs say the Millionaire Maker Mentorship is a "MUST-ATTEND."
It works better than anything they've experienced before.
Without the Millionaire Maker Mentorship there's no telling how long it will take to crack the code.
You can chase your tail. Lose years of your life. Burn hundreds of thousands of dollars. Miss out on meaningful experiences with your friends and family. And worst of all lose faith in yourself.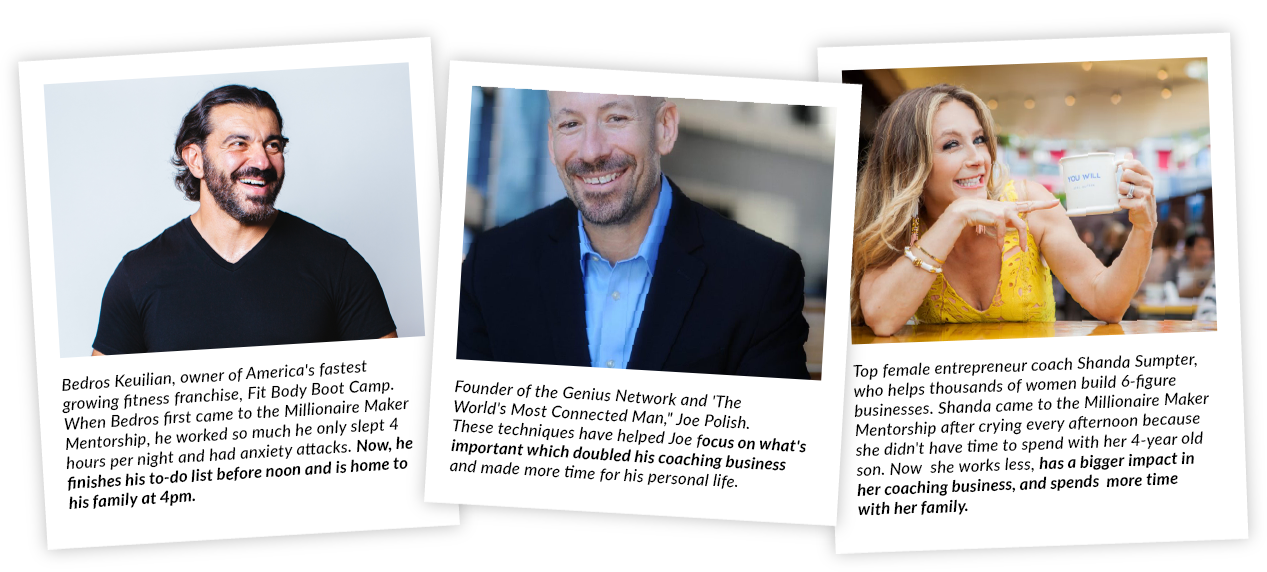 Why not follow in their footsteps?
Are you ready for the proven formula to finally become financially
free and live an amazing life?
Start by filling out your application to the Millionaire Maker Mentorship
and a member of my team will be in touch shortly.
Stop feeling left out. Now it's your turn.

Craig Ballantyne
The Millionaire Maker